BEREC events 2015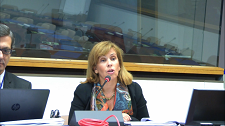 On 8 October 2015 in Brussels, BEREC held the public debriefing for presenting the results from its 24th BEREC plenary to take place on 1- 2 October 2015 in Riga.
The BEREC Chair Fatima Barros introduced participants of the public debriefing with the outcomes of the plenary meeting, documents approved for the public consultations, as well as the documents approved for publications.
BEREC Chair F. Barros presentation.
The BEREC public debriefing was web-streamed and the videos of the public debriefing is available at the BEREC official account on Youtube.