Join us virtually for the BEREC public debriefing on 6 October 2020
T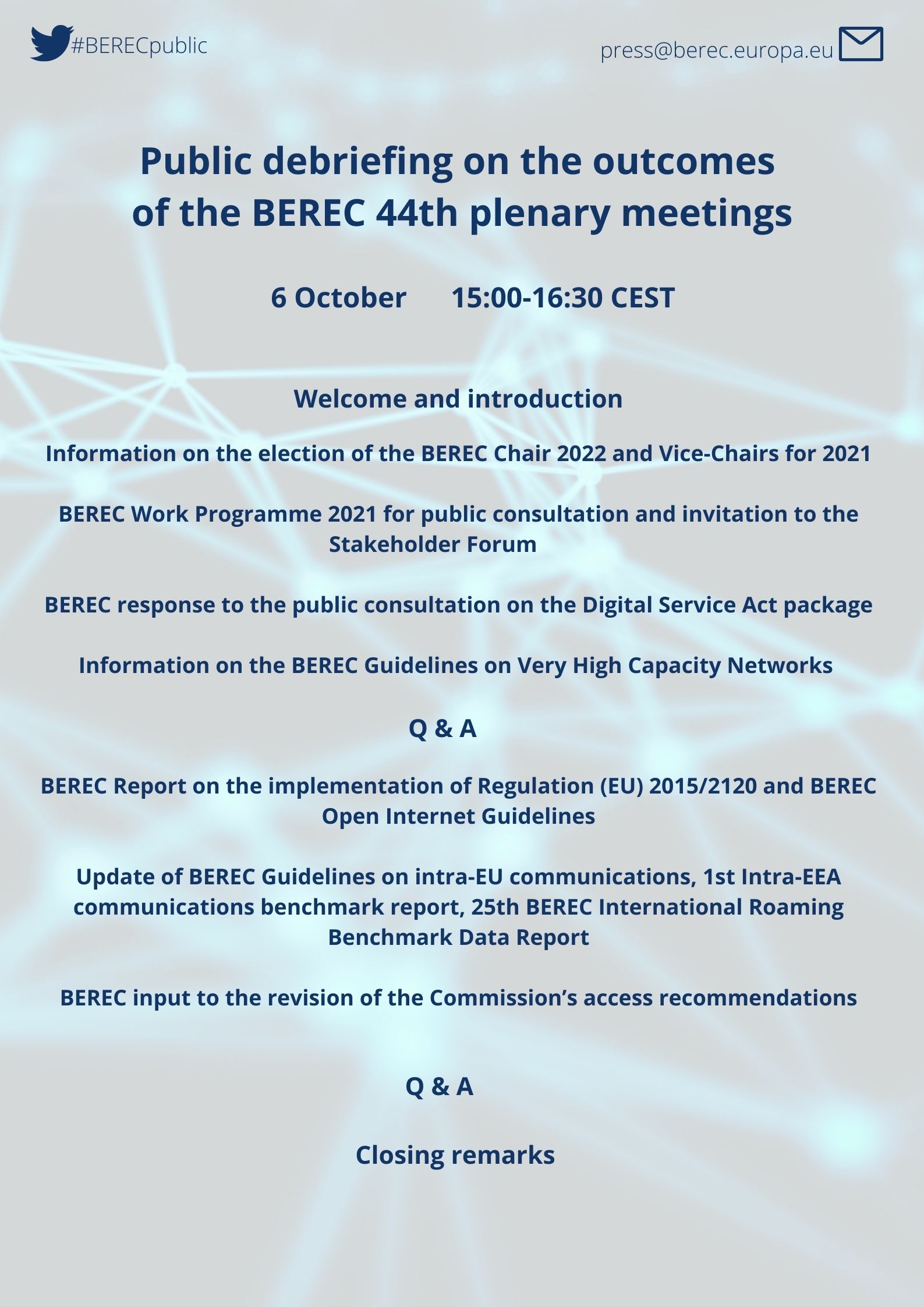 he BEREC public debriefing will take place virtually on 6 October at 15:00 (CEST) and will highlight the outcomes of the 44th BEREC plenary meeting.
The BEREC Chair, Dan Sjöblom will introduce the newly elected BEREC Chair for 2022, Vice-Chairs for 2021 and the representative of participants without voting rights to the Mini-board.
Michel Van Bellinghen, BEREC incoming Chair, will present the Work Programme 2021 for public consultation, as well as invite you to the BEREC Stakeholder Forum, which is taking place virtually on the 19 October.
During the public debriefing, BEREC will present the adopted BEREC Guidelines on Very High Capacity Networks, as well as the BEREC input to the open public consultation on the Digital Service Act (DSA) and the BEREC opinion on the revision of the Commission's access recommendations.
BEREC will also present the report on the Implementation of Regulation on the BEREC Open Internet Guidelines, the adopted Guidelines on intra-EU communications, the 1st Intra-EEA communications benchmark report and the 25th BEREC International Roaming Benchmark Data Report.
During the Q&A session, you will have the opportunity to interact live with the BEREC Chairs and the Working group Co-Chairs.
Important: Please indicate your interest for live interaction, e.g. asking question at the event, during your registration. On the day of the event, you will receive the dial-in details and instructions for interaction with the speakers during the public debriefing.