Gungl speaks at the Western Balkan Digital Summit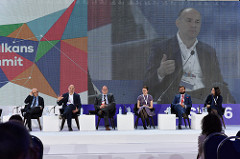 Driving investments, boosting productivity and creating growth – the Western Balkans will benefit from the right framework conditions for digital connectivity. "BEREC can and will support the region by sharing its expertise of establishing sustainable competition, that in turn will drive investment", said BEREC Chair Johannes Gungl at the Western Digital Summit in Skopje, FYR Macedonia today. "Independent regulators are playing a crucial role to create an investment friendly environment."
At the summit, Gungl was part of the panel discussing "Digital Environment Networks and Services, Connectivity and Access".

Photo: Flickr (Western Balkans Digital Summit )