BEREC Chair addresses competition and investment challenges at the LATAM-EU Symposium on Telecoms & Media Regulation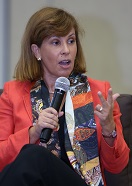 Fátima Barros participated, as BEREC Chair, at the 6th LATAM-EU Symposium on Telecoms & Media Regulation, which took place in Cartagena, Colombia, from 5 to 6 November 2015.
The BEREC Chair gave the opening keynote speech, given special focus on competition and investment, stating as a main principle that the promotion of competition is the main driver for investment in new infrastructure. This is especially true in the context of the long term connectivity needs of the EU, which has now a new strategy for the Digital Single Market (DSM). Further, while referring to the financial crisis effects on the telecom sector, as well as to the competitive pressure that telecom operators currently face within the sector and also from the new market players (OTTs), Prof. Barros stressed the challenges deriving from the said DSM, as well as from the framework review, briefly pointing out BEREC initiatives at this level.
Prof. Barros also participated at the panel on NGN regulation, focusing not only on asymmetric and symmetric regulatory remedies, but also on initiatives of co-investment aiming at fostering investment at fibre networks.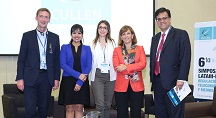 The Symposium also included panels on the relation between telcos, OTTs and consumers; security and privacy challenges; NGA/NGN regulation; EU and LATAM experiences on competition and investment/innovation; spectrum and policy regulation; and the future of media regulation.
This event took place after the Plenary of Regulatel (the Latin America Telecoms Regulators Forum), with which BEREC has a cooperation MoU.