BEREC Chair at ETNO-MLex conference : action is needed to avoid a new digital divide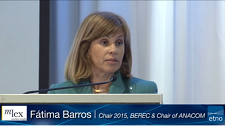 In order to discuss the digital priorities for 2015 and key EU regulatory issues, on 23 June the telecom operators, the EU institutions, regulators, academics, investors and other industry stakeholders gathered at the ETNO-MLex Regulatory Summit, which created a platform for up to 200 high-level delegates.
The BEREC Chair Fatima Barros stressed that the Body of European Regulators for Electronic Communications welcomes the Digital Single Market overall goal and expressed willingness to assist the European Commission in the implementation of the DSM strategy, especially as regards the review of the regulatory framework.
In her speech, the BEREC Chair addressed the digital divide between rural and urban areas emphasizing that action is needed to avoid a new digital divide and make every EU citizen have access to 30 Mbps by 2020.
Full BEREC Chair speech is available here.