BEREC events 2015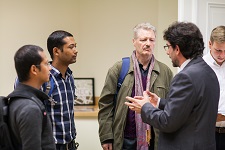 On 25 September, 2015 the BEREC Office joined the initiative of the European Commission Representation in Latvia and the European Parliament Information Office in Latvia to have an Open Day. This was the first time when anyone interested was invited to visit the only EU agency located in Latvia.
The Open Day guests were able to watch presentations about the work of the BEREC Office and meet its specialists to ask them questions about the nature of the agency's operations and its impact on the daily life of every EU citizen.

Open Day presentations:
BEREC Office
BEREC Office support to the BEREC
Photo gallery from the Open Day at the BEREC office in Riga.